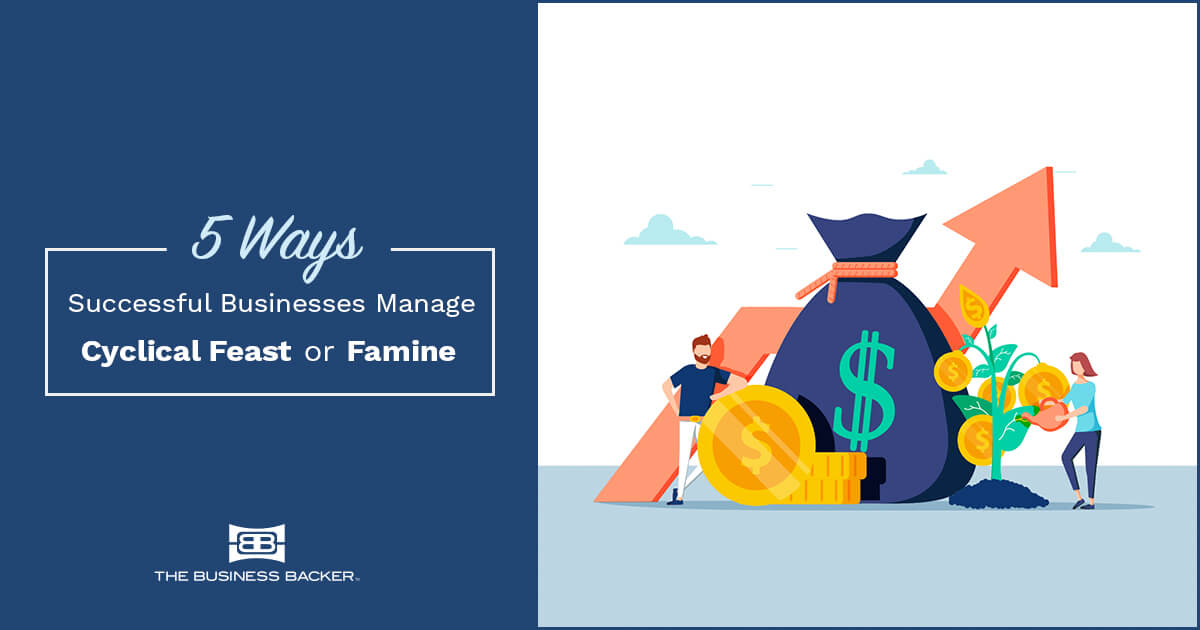 How Successful Businesses Manage Cyclical Feast or Famine
When you own a business, it's hard enough to manage a busy season, but what happens after the rush? Even if you provide a service rather than sell a product, you likely experience some kind of a slow period. That can make it much more difficult to plan for next year, grow and expand your enterprise.
You may wonder how others get around the bane of cyclical sales and seasonality. But today's top entrepreneurs leverage technology, affordable (and free) marketing tactics and smart planning to increase their bottom line, regardless of a slow season. These effective marketing and business management tactics can help boost your bottom line and make you less reliant on seasons.
They Don't Stop the Marketing Hustle
Successful entrepreneurs maximize their profits throughout the year with effective, free or low-cost marketing strategies. One of the most opportunistic areas to reach new customers and boost sales is email marketing with 3.9 billion worldwide users in 2019.1 A recent study found that email marketing can earn around $44 for every dollar spent.2 Grow your email list by offering perks, discounts or other low-cost incentives for your customers.
They Have Multiple Streams of Income
No matter what type of work you do or industry you operate in, relying on just one income source can put you in a bind if your business declines or stagnates. But a diversified portfolio can put you in a better financial standing in the face of adversity.
While you have practically unlimited avenues to earn extra income, like investments, real estate or even other businesses, look for easy opportunities within your area of expertise. As an entrepreneur, you might have options leveraging your experience or your business' economy of scale that you haven't even considered. Speaking engagements, consulting or even new media influencing are unusual, yet opportunistic areas in which a tech-savvy entrepreneur can earn extra income.
They Have More Than One Offering
Similar to alternative income sources, adding options for your customers can help boost sales. Bundling services or adding volume discounts can help you increase sales without actually having to expand your product line. Consider bundling products or services for new or returning customers or for higher-value clients to encourage additional sales.
They Use Funding to Get Through Slow Periods
Most businesses have some type of slow period, whether that lasts an entire season or just a few weeks. But cash flow issues represent one of the main reasons that businesses don't succeed. With disrupted cash flow, you may have a regular business, but the timing of payments is off. But with business financing like an approved line of credit, you can access and use just the amount you need without waiting to reapply. Cash flow shortages won't make or break you when you have another option to get by.
They Form Strategic Business Partnerships
Sometimes, you don't need to do all of the work yourself. Strategic partnerships with adjacent businesses can not only help you expand your customer base, but they may be able to help you stretch your marketing efforts further. From increased name recognition to expanded resources, the benefits of an effective partnership are vast. Look for similar businesses you don't compete with for potential connections.
They Automate Processes
If you really want to make the most of your time, business process automation is a great way to focus on your core strengths and increase overall efficiency. Depending on your business structure, you can eliminate all or some of the repetitive tasks for you and your employees. Some simple tasks you could automate include email correspondence, employee payroll, invoicing and client reminders. Task automation will not only free up your time for other core business activities, but you'll save money on labor as well. While you don't need to overhaul your entire business flow to save money, you can get started by automating a few recurring tasks and go from there.
They Value Good Employees
While you can't control employee turnover, you can offer highly sought-after benefits to encourage your best employees to stay. Training new employees not only is extremely time-consuming, but is extremely expensive as well. A remote or remote-flexible job is one of the biggest trends of the jobseeker market today. In fact, a recent study found that 80 percent of jobseekers would turn down a job that didn't offer remote-flexible schedules when faced with two similar positions.3 But the biggest reason to offer remote or remote-flexible positions is that you'll be able to save money, such as with a smaller office footprint, reduced cost of utilities and/or office supplies over time. Furthermore, a different study found that remote workers may be more productive; remote employees actually worked 1.4 more days in a month than their office-bound counterparts.4
References
1Clement, J. (August 9, 2019). Number of e-mail users worldwide 2023. Retrieved December 23, 2019, from https://www.statista.com/statistics/255080/number-of-e-mail-users-worldwide/
2Santora, J. (November 8, 2019). Is email marketing dead? Statistics say: Not a chance. Retrieved December 26, 2019, from https://optinmonster.com/is-email-marketing-dead-heres-what-the-statistics-show/
3International Workplace Group. (March, 2019). Global research reveals flexible working matters to employees. Retrieved December 23, 2019, from http://assets.regus.com/pdfs/iwg-workplace-survey/iwg-workplace-survey-2019.pdf
4Airtasker. (September 9, 2019). The benefits of working from home. Retrieved December 23, 2019, from https://www.airtasker.com/blog/the-benefits-of-working-from-home/