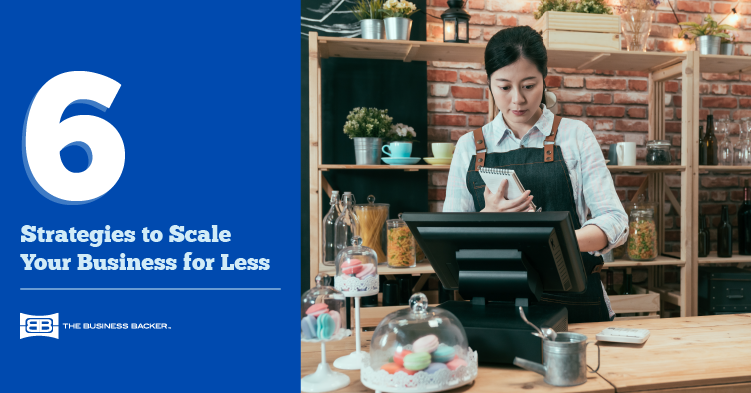 How to Scale Your Small Business for Less Money
Scaling a business is about setting the path for additional volume and sales without creating more work for your company. It's also a great way to identify and institute more efficient ways of running your small business. Read this guide to learn about six strategies to help scale your business for less.
1. Invest in the Right Technology
Today's leading business technology can help boost your team's productivity, improve your workflow, connect with new customers and more. We've rounded up a list of low-cost technology tips to help your business scale without breaking the bank:
2. Create a Lead-Generating Event or Product
While this strategy may not work for all types of small businesses, it may help generate ongoing inbound leads for your company. As a small business owner, you may have expertise in your field and/or entrepreneurial knowledge to share via a course, webinar, newsletter or other type of event. By sharing something valuable in exchange for information, like customer emails, you can spread the word about your company and reach new clients in the process. Read this guide to learn more about creating your own lead-generating event.
3. Upgrade Your Website
A well-designed website makes it easier for your company to scale, sell and reach new customers for less money. Here are a few strategies to improve your small business's website:
Fine-tune your website's search engine optimization (SEO): SEO is the process of improving your website's content, from the words you use to the way you design your website, in order to increase and improve its visibility. Learn more about SEO with this how-to guide by Moz.
Voice search optimization: According to recent data, roughly 119 million people use voice search in the United States, which is about one-third of the country's population.1 With voice search, Google tends to favor websites that load quickly. This guide can help you design a faster website to help capture more voice search traffic.
Increase your website conversion rate: If you sell from your website, learn about four simple website updates that can lead to a higher conversion rate.
4. Reach Customers on Social Media
A well-designed social media campaign can help your company market to existing and new customers on any social platform. Similar to SEO, you can use brand-appropriate keywords, images and content to connect with people that are interested in your company. You can also find new followers and companies that are similar to yours to help expand your audience. Read this guide to help develop your own social media strategy.
5. Network Anywhere and Everywhere
Another strategy to help scale your business for less is to utilize your network. You don't need to wait until you know of a new business venture to reach out. Connecting with your network on a regular basis may help you identify new leads, strategies to improve or other opportunities that can help scale and expand your business in the long term.
6. Secure a Business Line of Credit
Although the above tips can help you keep costs down as you scale your small business, some strategies will come at a price. With some form of revolving credit, like a business line of credit or credit card, you can access funds up to your credit limit without needing to reapply.
References
1Lin, Y. (2020). 10 Voice Search Statistics You Need to Know in 2021 [Infographic].