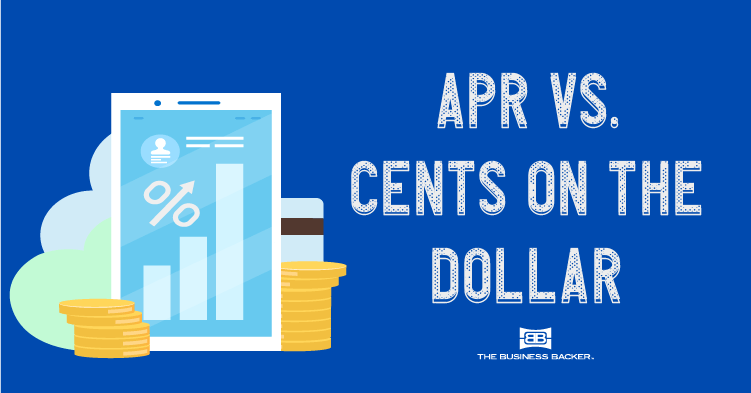 What's the Difference Between APR and Cents on the Dollar?
From SBA loans and small business bank financing, to online lenders and alternative creditors, small business owners may have several options to borrow money. But with so many different funding sources and types of loans available, it's understandable to want to learn more about funding terms that you may encounter before choosing a specific loan or lender.
If you're comparing different funding options, two common aspects to compare include APR and cents on the dollar.
What Is APR?
APR refers to annual percentage rate. An APR represents the cost you pay each year to borrow money, expressed as a percentage. The APR includes interest plus all mandatory fees you pay, such as an origination fee. Whereas, a metric like cents on the dollar, usually only incorporates the total interest you will pay, and excludes other fees or costs.
Depending on factors like the lender, your business's borrowing history and your revenue, APR for small business funding can vary widely, from roughly 2.58% – 250%.  An online small business loan may fall around roughly 70.49% APR.
Using 70.49% APR for this example, let's see the total interest paid on a $10,000 small business loan with the timeline below: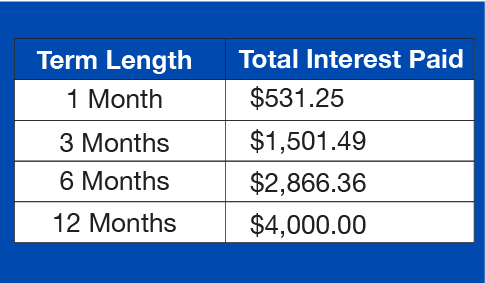 What Is Cents on the Dollar?
Another way to compare loans and determine the cost of borrowing is to use a metric called cents on the dollar. Cents on the dollar reflects the ratio of interest to every dollar borrowed, with the exception of financing fees, and/or other costs related to the loan.
Using the same $10,000 loan example, let's look at the borrowing costs with a cost of 40 cents on the dollar: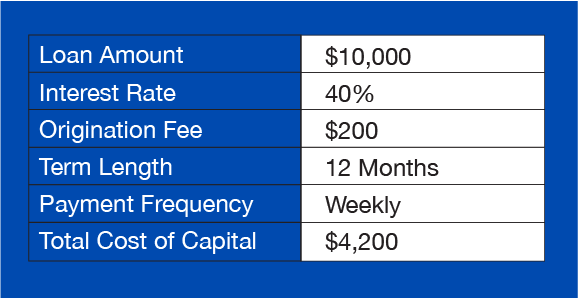 Which Figure Should I Use to Compare Small Business Loans? 
Both figures can help prospective borrowers when reviewing funding options. If you're looking for a small business loan with the best rates and terms available to you, it may help to use one or more financial metrics, including APR and cents on the dollar, to compare funding options. APR is a metric provided by most lenders and may be the best way to compare a uniform metric across product offerings. Cents on the dollar is beneficial because it gives you a better understanding of how much the loan will actually cost you but it may not always include fees outside of normal interest. Though small business lenders work differently, including their fees, interest rates and other costs associated with the type of funding, using these two metrics can help you compare small business loans from different lenders more easily.
Note: Loan details, rates and fees are provided for illustrative purposes only. Actual figures may vary.
References
1Song, J. (2021). Average Small Business Loan Interest Rates in 2021: Comparing Top Lenders.