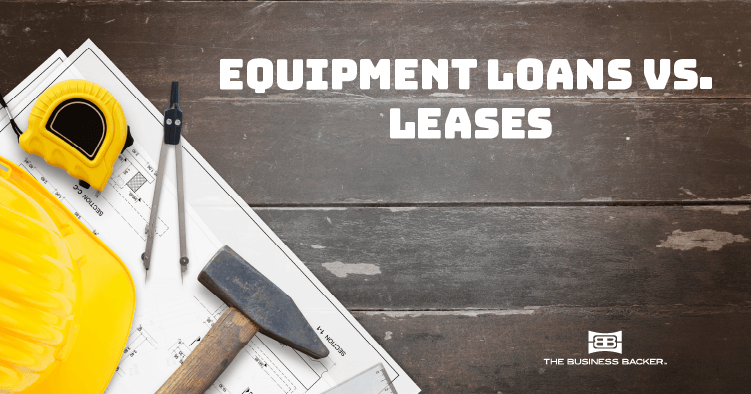 What's the Difference Between Business Equipment Loans and Equipment Leases?
Whether it's computers, desks, machinery, tools, or trucks, practically every small business needs equipment to operate appropriately. For many, however, there isn't much chance of purchasing equipment without some type of funding, at least without tying up important business capital. Aside from paying for equipment out of pocket, there are two primary options: Business equipment loans and equipment leases. Before you decide which method is right for your situation, it's important to understand differences between the two.
What Is a Business Equipment Loan?
An equipment loan, or equipment financing, provides capital for essential business equipment while typically using that equipment as collateral. A business equipment loan is similar to a car lease in that a loan signee can use the vehicle's title as a loan guarantee. Equipment loans may come in different forms, such as a revolving business line of credit or small business loan, which pays out in one lump sum. Loan repayment depends on factors like the loan type and principal, but generally include interest and any required fee.
What Are Possible Benefits of Equipment Financing?
Different types of equipment loans are available to suit your needs These are available from a variety of sources, like banks, financial institutions, and other non-bank lenders.
The loan collateral or a larger down payment can help secure lower rates.
Some lenders offer flexible repayment options.
Businesses assume ownership of the equipment, based on collateral and/or loan term.
What Are Possible Drawbacks of a Business Equipment Loan?
The loan principal may not cover the entire cost, which means a down payment might also be required at the time of purchase.
Businesses assume the cost of any asset depreciation as equipment becomes less advanced over time.
Equipment can break down or malfunction, which can lead to out-of-pocket repairs.
What Is a Business Equipment Lease?
On the other hand, equipment leases, or rental agreements, allow access to specific business supplies for a set time period. Lenders still own the equipment, and are generally responsible for maintenance and repairs, according to the lease. While agreements will vary by company, some offer the ability to purchase equipment at the end of the lease term.
What Are Possible Benefits of a Business Equipment Lease?
Maintenance and repairs are generally covered by the lessor in most agreements.
They generally do not require up-front fees or down payments at signing.
Businesses may be able to leverage leased equipment in order to utilize more advanced technology, compared to the amount they can afford to finance.
Companies can avoid asset depreciation and exchange equipment at the end of a lease term.
Lease payments can be tax write-offs, depending on state and federal regulations.
Some leases allow the flexibility to purchase equipment at the end of the term.
What Are Possible Drawbacks of Business Equipment Rental?
Lease payments can exceed the cost of buying equipment over time.
Agreements may not be available for all equipment necessary to run a business.
Commercial needs and/or budget may change during the lease term.