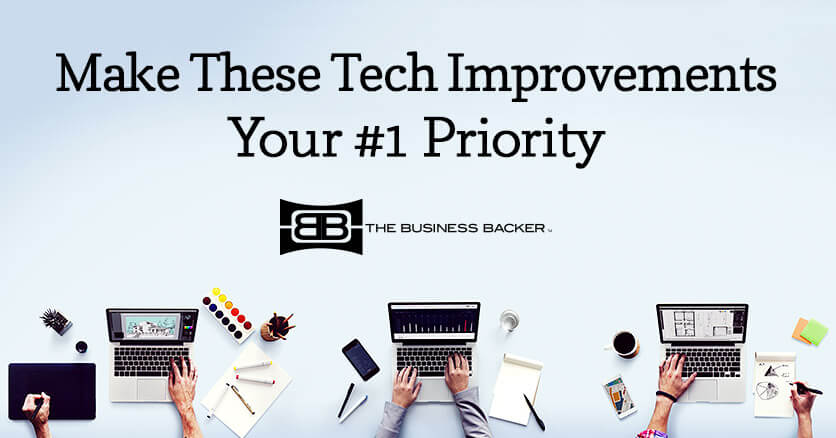 The Must-Have Tech for Your Small Business
All small business owners should be keeping up with the latest small business technology developments. We know that day-to-day operations consume most of your time — you're busy making sure that every facet of your business is running smoothly, and the idea of adding yet one more thing to do may seem overwhelming.
But no matter what industry you're in, technology plays a role, and you'll want to make sure you're staying up-to-date to keep your competitive edge. Plus, newer technology can usually help you run your business more efficiently, saving you both time and money. To get you started, we've compiled the top four technologies you should consider implementing or upgrading.
1. Cloud Platform
Search through any small business tech articles over the past couple of years and you'll find cloud technology as a "trend to watch." This year, though, the SMB Group Inc. listed cloud tech as the number one trend — 92% of small businesses use at least one cloud application.1   Analytics, accounting, marketing, CRM, you name it, the cloud can handle it. Using a cloud platform for your business's digital programs/performance will give you greater flexibility, enhanced security and greater scalability, so you're spending less and getting more than you would by using programs on multiple platforms.
Tip: Some popular cloud-based programs for small businesses include Mailchimp, Webroot SecureAnywhere AntiVirus and Intuit QuickBooks Online Plus.
2. Talent Management Technology
Finding (and retaining) skilled workers is a high priority for any business. You want the best of the best and you want them to stick around. But how to do so at a time when people are always on the lookout for that next, better job? The answer is recruitment technology.
37% of small business are looking to improve employee recruitment, and sites like ZipRecruiter are a cost-effective and time-saving way to get started. For example, ZipRecruiter takes your job posting and distributes it across dozens of job-posting channels. This saves you from having to spend hours uploading to every single site yourself. ZipRecruiter will also consolidates all applications from those sites into one, easy-to-use list for you.
3. Digital Security
Ensuring the security of sensitive information is usually on the minds of small business owners. 38% of small business owners cite security as one of their top three challenges, and 42% are looking to spend more time and money on improving existing security systems.1
Large-scale cyberattacks like the one that Equifax experienced this past year may give you a false sense of security, but don't be fooled: "…less secure small businesses become the low-hanging fruit for cybercriminals looking to cash in on stashes of intellectual property, unprotected credit card numbers or simply the computing power of unprotected computers."3
So make sure you have these basic security measures locked down:
Keep all software up-to-date
Secure all web browsers
Always use data and email encryption.
Back up your data daily to an off-site server (cloud-based or otherwise)
Ensure all mobile devices are encrypted
4. Mobile Tech
You should consider mobile technology as must-haves for your business. In 2014, 59% of small business owners viewed mobile capabilities as essential assets. Four years later, it's safe to assume that percentage has greatly increased.1
Having a mobile-friendly website is one the two most important mobile aspects you should implement (if you haven't already). Over half of online traffic to U.S. sites comes from mobile devices.2 If you're unsure of how to make your site mobile-friendly, you can use services like bMobilized that will do the work for you.
Accepting mobile payments is the second most important mobile technology you should adapt. Mobile pay is growing faster and getting easier every year as the technology becomes better and more popular. Offering this service to customers will give you a step up compared to other businesses who only take cards and cash. Plus, it allows you the ability to take payments wherever, whether you're in the store or selling on the road.
If you don't have a mobile pay system, check out some of the more popular options like Square or Swipe.
References
1Aggarwal, S. and McCabe, L. (January 2018). 2018 SMB technology trends. Retrieved February 1, 2018, from https://www.smb-gr.com/top-10-smb-technology-trends/
2Campbell, A. (January 9, 2017). Checklist of essential small business technology in 2017. Retrieved February 1, 2018, from https://smallbiztrends.com/2017/01/checklist-essential-small-business-technology.html
3Chickowski, E. (May 14, 2010). Protect Your Small Business Against Cyber Attacks. Retrieved February 1, 2018, from https://www.entrepreneur.com/article/206656#