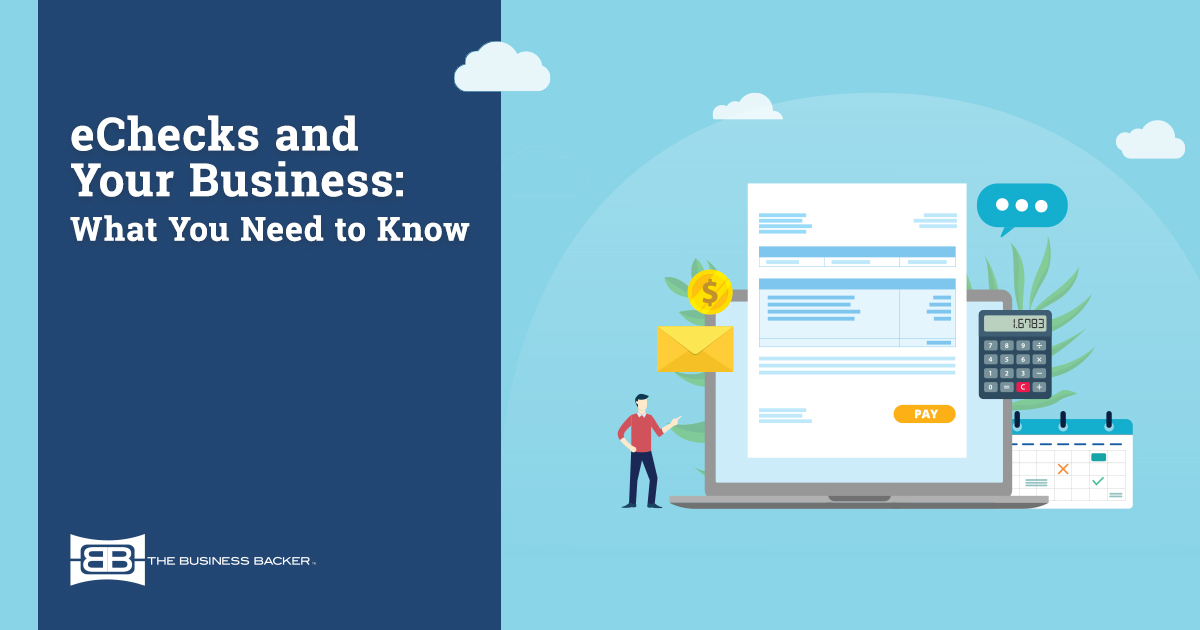 How Small Business Can Leverage Digital Checks to Get Paid Faster
One of the biggest pain points for any small business is not getting paid on time. Worse, the reality that you may not get paid at all.
According to research done by FundBox, most small businesses in the United States wait 21 days to get paid — and to top it off, small businesses owed $825 billion in unpaid invoices in 2016.1,2
With delinquent payments, the opportunity cost is huge:1
If small businesses were paid for all their unpaid invoices, they could hire 2.1 million incremental employees, which can reduce U.S. unemployment by 27%.
79% of small business owners choose to cut their own pay when customer payments are slow.
23% can't hire new employees, nor invest in new equipment.
So how can we address this looming issue that haunts over numerous small businesses and entrepreneurs? Let's explore a faster and greener option.
What Is a Digital Check?
Before we address the Digital Check, it's important to understand how eChecks function. eChecks (also known as an electronic check) are a form of online payment where money is electronically withdrawn from the payer's checking account, transferred over the ACH network, and deposited into the payee's checking account.
However, eChecks have some additional downsides:
eChecks don't always update in real-time.
Funds are not assured 3-business day settlements.
It's inconvenient to fetch routing and account numbers every time you send/receive money.
On the other hand, Digital Checks are also delivered via email but they are blockchain enabled, providing an additional layer of security and technology to deliver payment to the recipient. This form of a payment is even faster as the funds are either deposited via ACH or Check21, instantly deposited via a debit card, or have the option to print and submit a mobile deposit. Giving the user various options — instant payments, direct deposits, and printed mobile — offers newfound freedom in the payment landscape that had been previously restricted in the customer's domain.
Patrons of Digital Checks can verify their account records in real-time by simply logging into their financial institutions' website — which means, no more looking for routing/account numbers! Additionally, Digital Checks provide overnight settlement using the "Check21" procedure.
How Secure Is a Digital Check?
Data security is a top priority and surprisingly, email is extremely safe — after all, Digital Checks were created out of the problems and insecurity involved with Paper Checks. Its infrastructure was built ground-up with stringent security checks, combining data encryption with tokenization to keep data secure at all times throughout the transaction process. All production data is stored in a physically secure PCI SDD (Payment Card Industry Data Security Standard) Compliant offsite data center.
Ultimately, digital checks are making the world a greener place —  and getting you and your business paid faster.
References
1Fundbox. (May 09, 2019). 6 ways slow payments affect small businesses. Retrieved June 12, 2019, from https://fundbox.com/blog/slow-payments/
2Shinar, E. (November 20, 2016). U.S. Small businesses owed $825 billion in unpaid invoices (Infographic). Retrieved June 12, 2019, from https://www.entrepreneur.com/article/285233