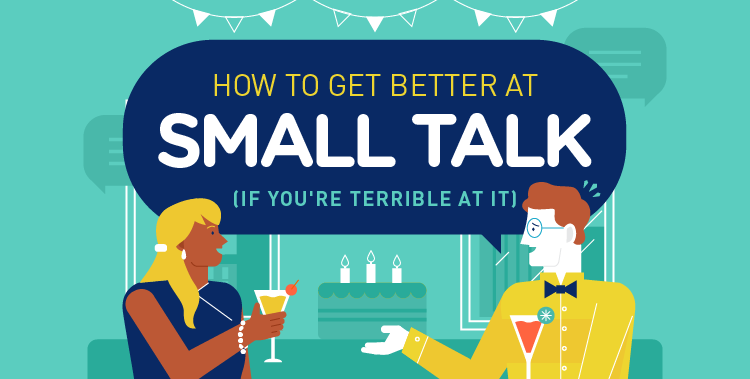 How to Get Better at Small Talk (If You're Terrible at It)
Disclaimer: This post was originally published on our UK partner's site.
Small talk is a fact of life. And while some people are naturals, the rest of us struggle to know what to say during casual chit-chat. Those awkward silences grow painful, and leave you feeling like a social failure!
But even if was possible to avoid small talk situations altogether, it wouldn't be a good idea. Because, get this: small talk is good for you. Not only does it help you bond with your boss, taxi driver, or mother-in-law, it makes you brainier at the same time.
And ultimately we are a social species. Passing the time with each other makes us happier and builds a sense of well-being – even if it feels like torture while it's happening.
So that's some research you can mention upfront next time you find yourself in a lift with a friendly stranger. But there are more pointed techniques you can use to keep yourself going when your mind runs blank.
For example, making eye contact helps to build a sense of trust, which makes it easier to talk to each other. Even if you're shy, try looking your small talk partner in the eye, and varying your look to their other eye and mouth every few moments. Remember: it doesn't hurt!
And use your talking partner as a source of new topics. Listen very carefully, and ask for details about what they say instead of searching your mind for a fascinating new topic to bring up. Conversations are easier when you ramp-up the empathy as you listen.
We've created a new visual guide to lead you through all the stages you need to perfect your small talk game. We looked at the science and realized that other people need not be so scary after all.
Small talk is a skill like any other. Only with this skill, learning how to do it can have benefits for your career, social life – and the way you feel inside. And once you've mastered these tips you can leave talking about the weather to the weather report.

Sources
Economy, P. 18 Ways to Send the Right Message With Body Language. Inc.com
Epley, N. et. al. 2014. Mistakenly seeking solitude. Journal of Experimental Psychology. 143(5).
Fine, D. 1997. The Fine Art of Small Talk. New York: Hachette Books
Frost, A. (2018) The Ultimate Guide to Small Talk: Conversation Starters, Powerful Questions, & More. hubspot.com
Krause Whitbourne, S. (2011) 10 Tips to Talk About Anything with Anyone. psychologytoday.com.
Kret, M.E. et. al. 2015. Pupil Mimicry Correlates With Trust in In-Group Partners With Dilating Pupils.
Psychological Science. 26(9)
Lloyd, C. (2012) Use the FORD Technique to Make Small Talk Easier. lifehacker.com.
Lowndes, L. 2003. How to Talk to Anyone: 92 Little Tricks for Big Success in Relationships. New York: Mcgraw-Hill.
Mason, MF. et. al. 2004. Look into my eyes: gaze direction and person memory. Memory. 12(5).
Media College. Open-Ended Questions. mediacollege.com.
Merchant, YS. (2018) A communication expert shares 4 conversation tips for people who hate small talk. businessinsider.com.
Musicus, A et. al. 2014. Eyes in the Aisles: Why Is Cap'n Crunch Looking Down at My Child?
Environment and Behavior. 47(7)
Ronin, K. 4 Reasons Why You Don't Get Noticed at Networking Events (and She Does). themuse.com.
Rubin, Gretchen. (2013) A Menu of Options for Making Small Talk. gretchenrubin.com
Sandstrom, G.M. et. al. 2014. Social Interactions and Well-Being: The Surprising Power of Weak Ties.
Personality and Social Psychology Bulletin. 40(7).
Schilling, D. (2012) 10 Steps To Effective Listening. Forbes.com
Thomas, J. (2012) Is Nonverbal Communication a Numbers Game? psychologytoday.com.
Tung, T. The 10 Big Rules of Small Talk.
Ybarra, O. et. al. 2010. Friends (and Sometimes Enemies) With Cognitive Benefits: What Types of Social
Interactions Boost Executive Functioning? Social Psychological and Personality Science. 2(3).
Embed This Image On Your Site (copy code below):