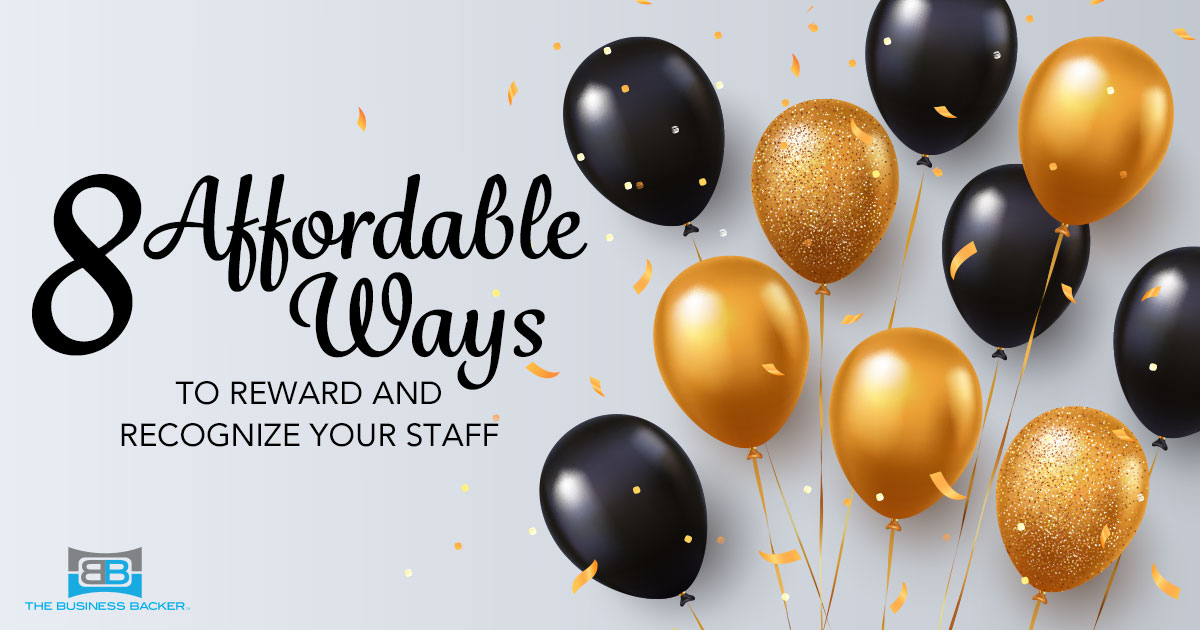 Budget-Friendly Employee Recognition Ideas for the Holidays
Employee recognition is essential to a happy and healthy workplace culture — experts recommend providing some form of positive reinforcement roughly every seven days.1 Though small businesses will typically have a smaller budget allotment for this purpose, you really don't have to overthink it or shell out a lot of resources to make someone feel appreciated!
Since it's a good time of year to give thanks to those we care about, you might want to do something extra for your employees. Whether you're looking to throw your entire staff an event for the holidays or are looking to recognize an individual for a job well done, these budget-friendly suggestions can help you develop satisfying and encouraging incentives to motivate and reward.
1. Send Out a Quick Survey
Before you commit to any sweeping rewards program, huge party or employee hall of fame, save yourself some trouble and get to know your staff's preferences for incentives. Some employees might not want to have their photos posted online or on the wall in a break room, while others crave this public commendation. They may even opt out of a seemingly innocuous office birthday celebration, so make sure that you offer this option if you go down that route. Rewards are more motivating when they're crafted to individual preferences; you don't have to provide the same reward to all of your employees.
2. Invite Employees' Families out to Dinner
Head to a local restaurant and tell your staff to bring their significant others for a celebration over a shared meal. If you don't mind hosting it yourself, your staff will appreciate getting to know a different side of your personality by visiting your home. Plus, you'll be able to save money with a potluck, partially catered or completely home-cooked meal over dining out.
3. Host a Game Night
A board game night at the office can encourage some friendly competition while your employees from different departments get to know each other. Grab a few of the trendiest games and enough snacks to satisfy your staff. If you have any budget left over, consider sending your employees home with the next suggestion on this list at the end of the event.
4. Pass Out Swag Bags
If you want to give out physical gifts, a swag bag with branded merchandise can go a long way. Look for unique, yet useful items that can be used at home or at the office, like a quality travel mug or water bottle. Or, desk toys and stress relievers are always a fun and appreciated surprise. Include a gift card to a local coffee shop to encourage a much-needed productivity break out of the office.
5. Provide Flex Time
If you don't already have remote-flexible schedules, your staff will appreciate a flex day or two — even a few hours that they can use whenever they want or need to step away from the office can do the trick. The holidays are a busy time for practically anyone; a work-from-home day or extended lunch break can reward a hard worker. If you'd prefer to make it a surprise, an unannounced early closure on a slow day is sure to delight.
6. Give a Simple Recognition
Whether private or wildly public, such as on a public-facing website or your company's social media, employees want recognition for their good work. In a recent Gallup study, survey respondents noted that the some of the most memorable rewards came in the form of public or private recognition.1 Best of all, this form of appreciation doesn't have to cost you a thing!
7. Host a Puppy Party
A day trip to a local shelter or rescue can give your staff a rejuvenating break away from their normal routines. According to the Centers for Disease Control and Prevention, spending time with animals is liked to reduced stress and depression, lower blood pressure, decreased feelings of isolation and other health benefits.2 If you have a flexible or particularly roomy office, consider allowing your staff to bring in their pets for an afternoon or recurring pet party day.
8. Make Time for Professional Development
If you can afford a company-wide educational session with seminars or speakers, go for it, but make sure that your investment is engaging, relevant and actionable. Otherwise, provide time in a normal work day for your staff to pursue their own professional education and development. With so many open courseware, tutorials and materials to learn new skills available for free, they'll be able to put their time to good use. Plus, being able to take a break away from the grind and work on one's own goals and aspirations is always appreciated.
References
1Mann, A., & Dvorak, N. (June 28, 2016). Employee recognition: Low cost, high impact. Retrieved November 21, 2019, from https://www.gallup.com/workplace/236441/employee-recognition-low-cost-high-impact.aspx
2Centers for Disease Control and Prevention. About pets & people. (April 15, 2019). Retrieved November 21, 2019, from https://www.cdc.gov/healthypets/health-benefits/index.html