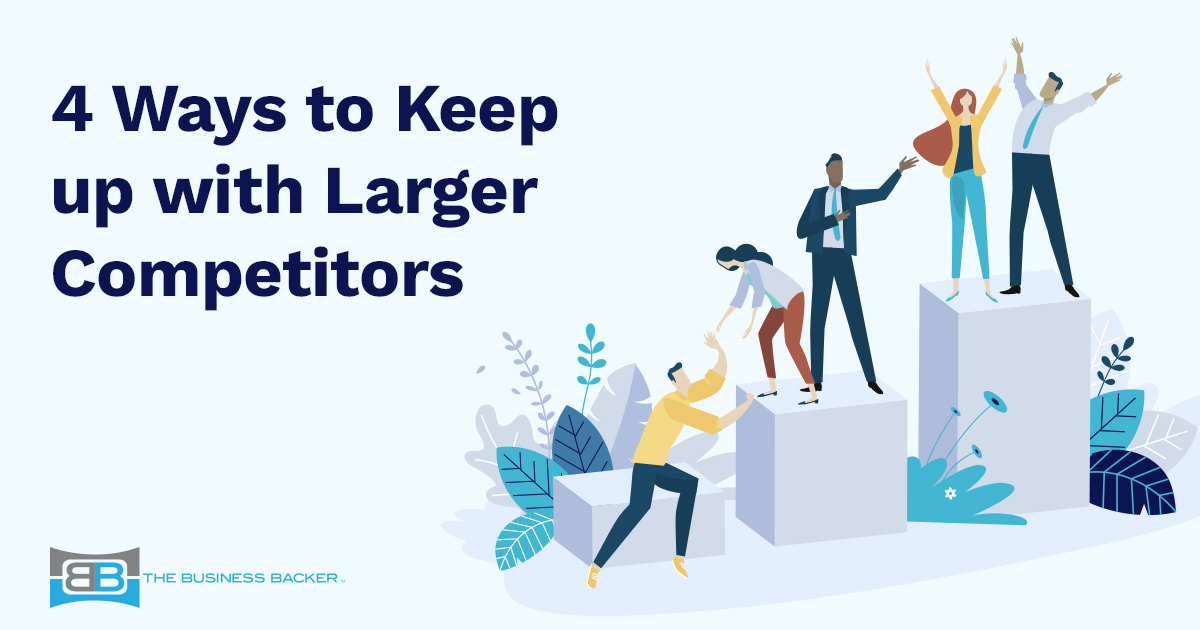 How Small Businesses Can Keep Up with Larger Competitors
If beating out local competitors proves challenging, standing out against big business is a far more demanding dilemma. With their insurmountable marketing budgets and greater purchasing power, large competitors can and often do eclipse your small or midsize business (SMB)'s goods and services.
Fortunately, the fight to keep up with larger businesses in your industry is not as much of an uphill battle as it might initially seem. By identifying and capitalizing on the core components that make small businesses great, you can not only survive but thrive in current markets.
Attract Niche Audiences
Large businesses design campaigns that target multiple demographics across geographical locations. This strategy, of course, yields a higher number of potential customers, but it comes at an expense — you may be reaching out to less relevant audiences or find it difficult to identify your products with a designated buyer persona.
Niche audiences, alternatively, are smaller, more manageable bodies of potential customers. By finding a few relevant niche communities, your business can tailor your marketing efforts toward a very specific type of buyer, which can boost your conversion ratio and give you a better picture of what your customers really want.
The benefits don't stop there — small businesses that tend to niche communities often enjoy higher levels of customer engagement and repeat purchases, which are both critical to establishing a sustainable, long-term business. After all, if you are one of the few businesses that services the needs of a small subset of consumers, then there's a good chance they'll keep buying. Repeat customers spend up to 300% more than your first-time buyers, demonstrating just how profitable these small communities can be.
Take Advantage of Your Size 
Instead of seeing the size of your business as a potential weak point, you should recognize the distinct advantages that come with operating at a smaller scale. Large companies rarely move at quick speeds, and many are averse to changes in the market and either unwilling or unable to proactively detect and adjust to these changes. This is because entities with a larger mass take more time to switch their current direction, making widespread approval for new policies or change management failures a key weakness in large-scale business practice.
If you haven't already, take some time to develop and implement a business agility strategy to more effectively grow your small business and adapt to changes within your industry. Agile businesses comply with a few core values that allow them to operate at faster speeds when compared to their competitors: transparent communication, strong team dynamics, a penchant for innovation, and smart technology usage. It's a practice that four out of five executives use to better meet consumer demands and outmaneuver competitors that are set in their ways.
When it comes to better agility, your size is your best advantage. Having the ability to speak to your entire company in a single room or enact company-wide decisions as soon as they are made allows small businesses to be more flexible toward current trends and customer demands. When you couple your size with a sensible plan for change you'll be able to beat your competition every time.
Simplify Your Technology
Investing in technology with overlapping features is not only inefficient, but it means that you're paying for the same services more than once. For small businesses, which often do not have room in their budgets for inefficiencies, these investments could be better spent on new personnel or resources to make your work more efficient. And in the modern business space, there's no reason that SMB teams can't be just as tech-proficient as their larger competitors. In fact, 92% of small businesses already use cloud technologies in some capacity. Further expanding your internet-powered technology, specifically, will only help your workflows become more streamlined.
Juggling between your phones, different chats, email threads, and video calls is not only time-consuming, but it can contribute to greater amounts of miscommunication. That's why several small businesses have simplified with Unified Communications technology. As the name suggests, Unified Communications services collect all of your different communication channels, offering them through one internet-powered platform for easier communication with your teams and customers wherever you need them.
Another example of tech simplification concerns the issues many small businesses have with creating a uniform process for getting work done. Smaller organizations, rarely, if ever, record a standardized process for their workflows and instead rely on the experience of current team members to share their best practices. By centralizing with workflow management software, SMBs let technology do the work of prescribing a process and helping employees remain compliant. This helps assure that your work processes are repeatable and simple for new employees to pick up.
Keep That Small Business Touch
Corporations and franchises will have a larger customer base than most, if not all, small businesses. But that also means they have a higher number of customers they need to satisfy in order to retain each patron. Small businesses, on the other hand, have the opportunity to provide deeper levels of personalization and punctual customer support.
Great customer service is and will continue to be the deciding factor for a majority of consumers. One study found that 64% of people place more value on their customer experience than the price they pay for a good or service. This sentiment expresses the grievances that many have with large companies they do business with — consumers are tired of long hold times, misinformation, and being bounced between several customer service specialists for the same issue.
How exactly can you prime your customer support teams for success? By valuing your customers' time and providing relevant answers to their questions, you can keep your buyers satisfied and more inclined to choose you over big business the next time they're in your market.