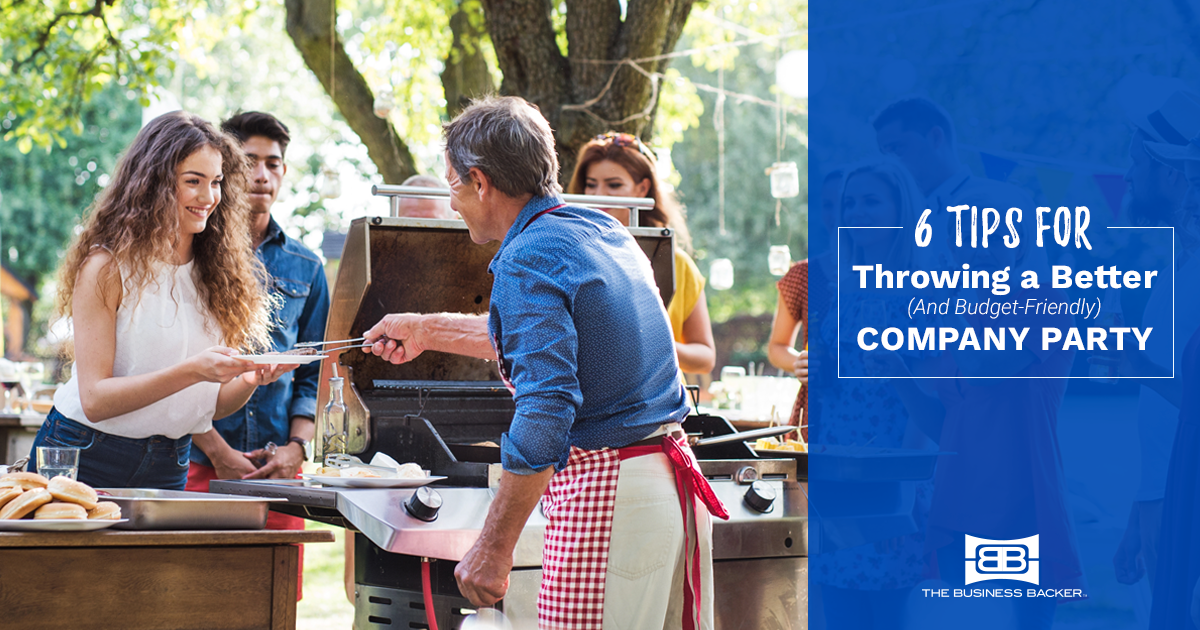 How to Throw a Company Party on a Budget
The summer season is approaching its end. If you're a seasonal company or open year-round, you're likely undergoing some adjustments. Along with hectic preparation in regards to inventory, staffing, and finances, you might be looking to plan a company party. A party can be a great chance to reward your employees for their hard work and a chance to unwind and build rapport with coworkers.
All that aside, it can also be a strain on an already tight budget for your small business. Is having a company party really worth it financially for your business? Here are some tips on how to reward your employees with a party without breaking the bank.
Talk it Out Beforehand
Before making any plans, it's important to communicate with your employees. After gauging employee interest, you may find that there's no need to organize a party, and can take other measures to show appreciation to your employees. Not surprisingly, hanging out at work after work hours may not be everyone's idea of fun, so don't be offended if a party just isn't in the cards.
If there is interest, consider talking to your employees to find out what would actually be 'fun' to them. If you have enough employees, consider sending out a brief survey to get their input. Don't pressure yourself to make everyone happy, but you can take steps ahead of time to make sure you're providing the best overall experience for your hard-working employees.
Have It in the Office
One of the biggest costs of throwing a company party can be paying for a venue. Depending on how extensive your guest list is, you may already have enough space in your office to host the party.
If you run your company from your home, and you have the space, it could be an opportunity to bring in employees or vendors you don't usually see in person for a great networking opportunity. By having the party in a space you're already paying for, you can devote a little cash to decorating or making your space seem more festive than the usual office environment. If that isn't an option, research venues that only have a tab minimum rather than space rental fees. Depending on your small business, you may even be able to trade goods or services for a discounted cost.
Make It a Potluck
Before you roll your eyes and completely write off the potluck idea, think of your employees. While a caterer can make for less work for everyone at the party and certainly for you as the party planner, the homemade touch of handmade dishes can bring a new element to the gathering. If your employees have a particular specialty dish, it could be a chance to share those talents with the office while saving the business some serious cash. You could also pick a fun theme for the dishes to help build excitement or help narrow down the menu for those who aren't as experienced in the kitchen.
DJ iPhone
Paying for a DJ, while again taking one more responsibility off your hands, can be seriously expensive. The great news is that you live in the 21st century, and you have access to every song ever on your phone. With a simple music app like Pandora or Spotify, you can rig your phone up to some speakers and set a nice environment for the party. Most music apps allow for a premium version that skips commercials, and may even offer a free trial, to keep your party free of the occasional ad for your local mechanic.
Be honest with yourself — if your taste in music is less-than-stellar, especially compared with those with whom you work, maybe let somebody else make the music choices or use a premade party playlist available on the streaming apps mentioned above.
Games
To help people loosen up, consider introducing some party games or other activities. These can allow your employees to mingle and interact in a way that doesn't involve work. You can even consider doing a raffle of sorts, with carefully chosen items as to not break the budget, of course, to have some fun as well.
Take time to recognize employee achievements
To truly make it a celebration of the company, take time at the party to recognize individual achievements. This can give employees an opportunity to congratulate each other and invite good vibes into the space.
Remember that the company party is meant to be a perk for your employees or a celebration of their hard work, so make an effort to highlight a job well done on their part to make them feel appreciated.