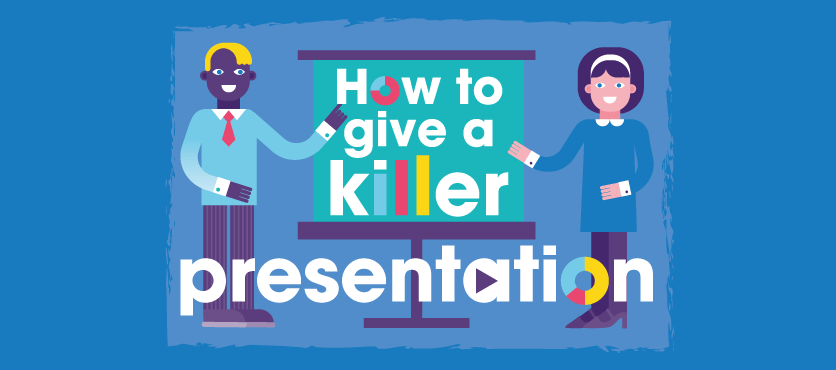 How to Give a Killer Presentation
Presentations have become an enormous part of the way we work today. For some it means turning up to seminars and conventions to share our company's message, while for others it can be presenting new ideas in the safety of the office. But even if it's as rare for you as an occasional job interview, having the confidence to perform a winning presentation can be crucial to your career.
In fact, a whopping 75% of us confess to suffering from anxiety when it comes to public speaking. But that needn't be the case, with the right preparation and a few special techniques, nailing that presentation can be a doddle. For a start, you'll need to prepare. Identify the message you want to share, find a way to express it as a story, and arm yourself with some visual prompts to get you — and your audience — through all that text.
Giving a killer presentation isn't rocket science — it's closer to rock'n'roll! Once you're confident in your material and in your method, you may even come to enjoy the challenge. Check out our new infographic for a step-by-step guide on how to develop that killer technique.

Sources
Hamilton, C. (2008). Communications for Results, a Guide for Business and the Professions.
Shattuck, S. (2016). Presentation Habits Presenters Don't Like to Admit. prezi.com
Brainy Quote. Benjamin Franklin Quotes. brainyquote.com
Hamilton, C. (2012). Essentials of public speaking. P. 224
Mitchell, O. (2009). How to craft a memorable key message in 10 minutes. speakingaboutpresenting.com
Anderson, C. (2013). How to give a killer presentation. hbr.org
Widrich, L. (2012). The Science of Storytelling: Why Telling a Story is the Most Powerful Way to Activate Our Brains. lifehacker.com
Belknap, L. (2016). How To Tell A Story During A Presentation. ethos3.com
May, K. (2012). How to give more persuasive presentations: A Q&A with Nancy Duarte. ted.com
Lacey, S., Randall, S., Sathian, K. (2012). Metaphorically Feeling: Comprehending Textural Metaphors Activates Somatosensory Cortex. Nih.gov
Duarte, N. (2014). Finding the Right Metaphor for Your Presentation. hbr.org
Hyerle, D. (2009). Visual Tools for Activating Habits of Mind, P28
Thorpe, S., Fize, D. & Marlot, C. (1996). Speed of processing in the human visual system, Nature, Vol 381.
Shattuck, S. (2016). The 6 Best Prezis from TED. Prezi.com
BBC. (2010). Using Prezi In Education. bbcactive.com
Write-Out-Loud. Cue Cards. Write-out-loud.com
Birdwhistel, R. (1970). Kinesics and Context.
Wyeth, S. (2014). 10 Reasons Eye Contact is Everything in Public Speaking. inc.com
Bates-Communications. (2008). Vocal Pace and Tone Can Make or Break Your Presentation. bates-communications.com
The Total Communiocator. (2004). There's a message in Your Voice. totalcommunicator.com
Adams, B. Step by Step Guide to Making a Compelling Presentation. businesstown.com
Scudamore, B. (2016). 6 Ways To Conquer Your Fear Of Public Speaking. forbes.com
Psychological Science. (2016). Power Posing . sagepub.com
Embed This Image On Your Site (copy code below):