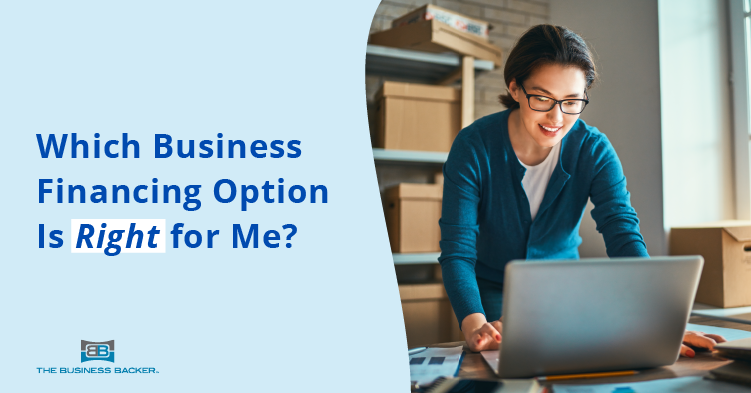 How to Choose the Right Type of Loan for Your Needs
Funding your business with outside capital is often necessary to help it grow and realize its full potential. If you're in the market for small business capital, you may quickly realize there are many funding methods available. Read our guide to learn what to look for when choosing the right financing method for your company.
Determine Your Funding Needs
There are a few different types of business financing available to suit your funding needs. One of the main differences is whether you need ongoing capital from some type of revolving credit, or a larger lump sum from a small business loan.
Additionally, the funding timeline varies widely by lender. Small business creditors like The Business Backer work hard to make the funding process as easy and efficient as possible. Other business lenders, including banks and credit unions, can take much longer to review applications and fund approved borrowers.
Assess the Available Business Funding Options
You may qualify for more than one type of loan to help fund your business. Some businesses choose to leverage more than one financing method to manage larger business expenses and pay for everyday costs. Some business funding methods include:
Term loan: Sometimes referred to as an installment loan, this type of business financing is issued in a lump sum and is repaid in installments over a specified time period. Term loans are available from business creditors like banks, credit unions and online lenders.
SBA loan: This financing option is backed by the U.S. Small Business Administration (SBA) and is available exclusively through SBA-approved lenders. Because of the federal guarantee, SBA loans generally have a lower interest rate than other business financing options. However, the qualification and application processes are considered more demanding and lengthier than other types of funding.
Line of credit: A business line of credit is a form of revolving credit that can be reused as the balance is repaid. With this type of financing, borrowers can access funds up to their credit limit at any time. Lines of credit are available from sources like banks and online lenders as well.
Invoice factoring: This funding option involves selling outstanding invoice(s) to a business creditor in order to access a cash advance. The lender is then responsible for collecting on the invoice (in addition to interest and/or fees applicable). Some online lenders offer invoice factoring options.
Business credit card: Another type of revolving business funding is a credit card. This funding option allows borrowers to make purchases on behalf of their business and repay at a later date. Like a line of credit, a business credit card provides ongoing capital access up to the credit limit. Business credit cards are available from banks, credit card issuers and similar creditors.
Research the Loan Qualifications
Finally, review the qualifications for your chosen business funding method(s). While actual lender qualifications will vary, they typically address the following criteria:
Annual revenue: Your revenue can impact your ability to repay the loan, so business lenders may require your company to meet a minimum annual revenue to qualify for credit.
Time in business: Lenders may also require your company to be in business for a minimum period of time to qualify for a loan.
Minimum credit scores: Business lenders may require you to have minimum business and personal credit scores in order to qualify for a loan.
Required documents: Applicants may need to submit certain business documents for a business loan, including Articles of Incorporation, business license(s), permits and similar credentials.