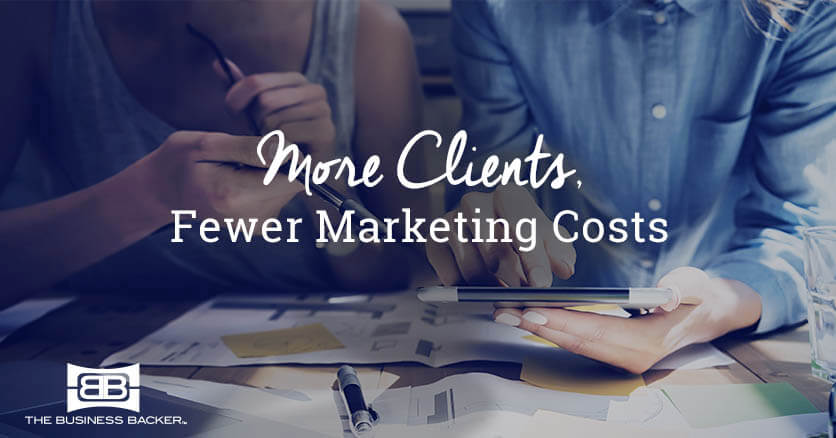 Monthly Challenge: Generate More Clients with Inexpensive Marketing Techniques
Marketing is a crucial piece of any business, but the cost associated may encourage small business owners to neglect it — or worse — ignore it entirely. In fact, 76% of all business owners report challenges with marketing for their businesses.1 Even if you think you generate enough leads without marketing, there may come a time when your customer flow begins to plateau, and it may be too late to make a difference.
There are several strategies you can utilize that cost very little or nothing at all — just your time and effort. Try some of these inexpensive marketing techniques and see how your business can grow!
Ensure Consistency
You want to make the process as simple as possible when you're trying to connect with clients, especially if they are the ones reaching out. Audit your social pages, website and any local listings you may have. Make sure that all of the information is consistent across all channels. This will eliminate any chance of confusion about your contact information.
Additionally, set up a system to log correspondences. Note things like how a potential client prefers to receive communication, any personal information they provided to better assist them, the last time you reached out to them and when you plan on following up.
Network With Your Peers
If you've exhausted your current pool of potential clients, a great way to jumpstart your outreach is through a networking event. Go to events, engage with people, follow up to build relationships and assert yourself as an expert and valuable resource in your field. If you need to improve your network from the ground up, use these tips.
Target Online Communities
If your product or service is useful to a certain group of people, consider how you can connect with that group. For example, if your business sells unique paper products, connect with those in the wedding planning blogosphere. Don't just sell them on your product. Instead, get to understand the insight that they have garnered over time and use their knowledge to help improve your product and how you present it via marketing channels. If you can connect with the user base, even better! But focus on this strategy first as a resource for better understanding your customers.
Generate New Content
While there are many components to search engine optimization (SEO), arguably one of the most important is publishing new content. By regularly contributing to your website, you signal to search engine crawlers that your site updates frequently and is relevant. Even if you don't see a dramatic improvement to your search engine rankings, those directly landing on your website will know you are current. Additionally, posting regular blogs on relevant topics to your industry positions you as a thought leader and an expert, both of which demonstrates your value to potential clients. Providing answers to commonly asked questions is a great place to start.
Bolster up Your Social Media
Have a social media strategy and don't post just to post. Social media is almost too accessible and makes it far too easy for businesses to bombard their customers on many different platforms. The burnout that results can be detrimental to your business. In the case of social media, think quality over quantity. Look back at your posts and report on which were the most successful, which were the least and why they succeeded or failed. Sometimes, the exact answer won't be clear, but if you pull enough data points, you may be able to uncover a pattern that suggests what your customers are connecting with and what they aren't. Additionally, this can provide insight to what really matters to your current customers and what could resonate with potential new clients.
References
1S. (January 21, 2017). 7 killer growth tactics for small businesses in 2017. Retrieved April 21, 2017, from http://ninjodo.com/small-business-tactics-2017/