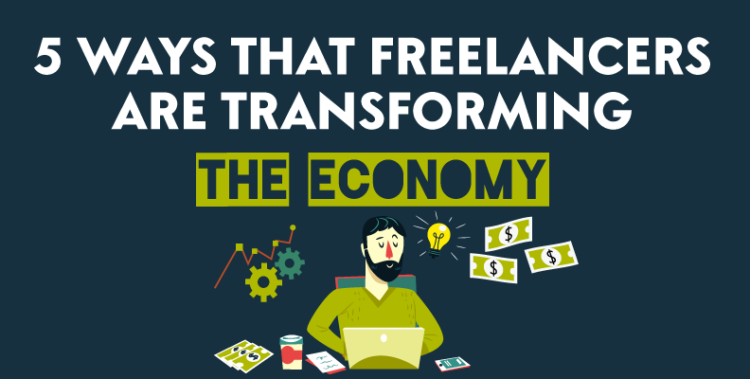 5 Ways That Freelancers are Transforming the Economy
Disclaimer: This post was originally published on our UK partner's site.
The way we work is changing. With five million UK workers already employed on-demand via services such as Airbnb and Uber, the balance is shifting between those who use 'gig'-work to supplement an old-fashioned 9-5 job and those for whom a networked society means no longer having to show up at the office. This is not just about a few rootless freelancers making the Internet work for them – it is a revolution in the economy of work.
Over the past four years, over 40% of new jobs have been in self-employment, and this figure seems set to grow. Governments and corporations alike are waking up to the reality of a shifting economic landscape. Small companies with large networks of freelance workers are able to respond more quickly to consumer needs, to keep overheads low and to undercut the pricing of traditional organisations. However, these freelancers may be discouraged – or pushed off-radar – by administrative red tape and slow-moving government legislation in the areas of taxation, holiday pay and employer responsibility. Freelancers must decide for themselves whether the instability and risk of the gig economy is worth the freedom and potential earning power it offers.
It's a risk that many are choosing to embrace, choosing freedom and self-determination over the security of the monthly paycheque. More and more, the networked world makes it possible to capitalize on the aspects of our lifestyle that we feel define us personally, whether it's offering great hospitality or selling craftworks on Etsy.
Here we take a look at a breakdown of the challenges and opportunities facing freelancers and authorities alike in the wake of the gig-economy.

Sources
Sundararajan, A. (2015). The 'gig economy' is coming. What will it mean for work? theguardian.com
Porges, S. (2015). This Is The Future Of Airbnb: A Candid Conversation With The Company's Head Of Hospitality. forbes.com
Schram, B. (2015). Sharing economy: 87% of Brits see 'gig economy' taking over from 9-5 working days in 10 years. ibtimes.co.uk
Parliament. (2015). The self-employment boom: Key issues for the 2015 Parliament. parliament.uk
Embed This Image On Your Site (copy code below):