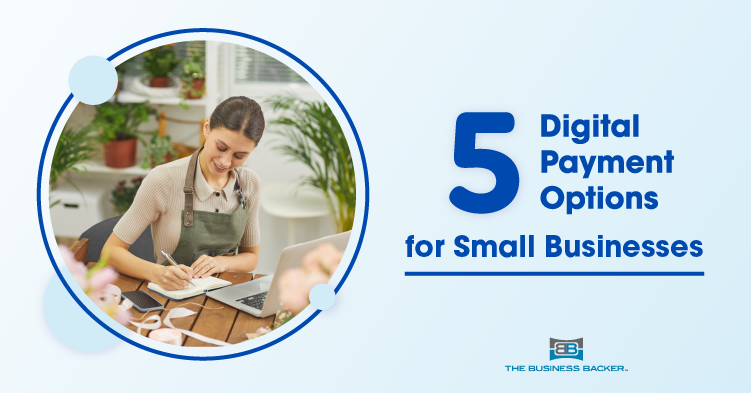 Which Digital Payment Should You Use?
Running a successful small business involves making decisions that help push your company forward, while creating valuable options for your customers. Sometimes, you can advance your company and avoid depleting your working capital simply by upgrading the technology you use every day.
If you're looking to provide your customers with a more convenient way to pay, consider offering digital payment methods to help you get paid faster and reduce unpaid invoices. Whether you incorporate one or more of these methods, these five digital payment options can help you find the right solution for your business's unique needs.
ACH Transfer
An ACH payment is a type of Electronic Funds Transfer (EFT) that goes through an Automated Clearing House network. Although ACH payments go through the ACH network in batches, payers send money from their bank account to another bank account. Similarly, most small businesses use their business bank account to accept funds through an ACH transfer. In order to use this method, the payer must sign an ACH authorization to allow one-time or repeating payments. ACH transfers include the following payment methods:
Wire transfer: Although financial institutions vary, some wire transfers use the ACH network for a convenient, safe payment method.
Direct deposit: When sending payments, including staff payroll, an ACH transfer deposits money directly into your employees' bank accounts.
eCheck: An eCheck works similarly to a paper check, but it saves on paper and processing time. Once a payer completes a payment authorization, eChecks can be used to send a one-time or recurring payment via the ACH network.
Bank-to-Bank Wire Transfer
Although some wire transfers go through the ACH network, which may take longer to reach the recipient, others are sent much faster directly from bank to bank. This method may also be referred to as a bank wire. A bank-to-bank wire transfer is entered manually and is not batched or sent through the ACH network. Although payments are usually sent faster with this method, bank wire transfers are generally more expensive than other forms of digital payments. Keep in mind that bank-to-bank wire transfers may be considered less secure than ACH transfers since they cannot be reversed once they are sent. In order to learn more about bank-to-bank wire transfer services or fees, contact your bank directly.
Credit Cards
Whether you're a B2B or B2C company, credit cards represent one of the most widely used payment options with roughly 464.9 million credit accounts currently in America.1 Additionally, if you sell products online, credit cards are a reliable and safe way to accept payments from customers.
In order to accept credit cards, you'll need a credit card payment processor account or business bank account that offers merchant services. While fees and usage charges vary, many credit card processing services charge a transaction fee, monthly fee, chargeback fee and other costs for usage. To learn more about credit card merchant accounts, you may want to contact your business bank directly or read below for alternatives to the traditional merchant processing accounts.
Digital Payment Apps 
Another reliable payment option for small businesses are feature-rich digital payment apps. While they vary by company and/or specific plan, some payment apps can replace a credit card processor or supplement other digital payment methods. Additionally, many of the following options allow you to accept money online or through an app. Some of the most popular digital payment apps include:
Digital Checks
While this digital payment method is similar to eChecks, there are key differences between the two options. Digital checks generally do not use the ACH network, and may be transmitted and deposited faster than eChecks. Additionally, digital checks can be a payment option for bank accounts that do not support ACH transfers. Senders also typically do not need the recipient's bank account number, which can help expedite the payment process further. While financial institutions vary, digital checks may be sent via email and can be deposited right away. Some digital check providers include:
Checkbook.io: Users can send a digital check, also referred to as a real-time payment, securely in as little as 60 seconds without using the ACH network.
Checkissuing: This company provides a secure, end-to-end encrypted digital payment method that requires just a recipient's name, payment amount and email address.
References
1Suknanan, J. (2021). Americans have less credit card debt in 2021, but do you know the average balance for your generation?