H&G Erectors
Business Cash Flow Funding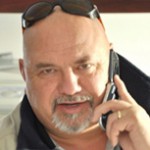 "I approached The Business Backer with a specific need, and within a short period of time, the company had designed a financing program that eliminated the project payment gap."
Doug Gilliam – H&G Erectors
For Doug Gilliam, helping to build foundations is something he has done for more than 30 years. His business, H&G Erectors, assembles the steel girders that are used in the construction of foundations for single-story and below commercial buildings, including CVS and Walgreens.
The Cash Flow Challenge
As a sub contractor, Gilliam is subject to the payment terms and timeframes of his general contractors and the companies whose names go on the buildings. The 30, 60 or 90-day gap between job completion and payment can be difficult for any small business to manage. For H&G Erectors, finding the necessary capital to fill the gap to meet payroll for its eight-person crew was a challenge, particularly in an economic environment with limited funding options.
After certain projects when Gilliam needed the payments faster to meet payroll, he would offer to discount his company's fees. While this tactic would occasionally work, the discounts had a negative impact on his company's overall revenues. Gilliam also tried several times to find the funding sources to fill the payment gap, but like many small businesses, he faced a number of closed doors.
"Loaning money to construction companies is taboo for banks right now, so they won't even look at someone like me," commented Gilliam. "As a small business working project to project, cash flow is critical. I have a great crew, but with any business if you can't meet payroll, employees will go to work for someone who can."
Bridging the Payment Gap
With little success finding the capital through regional and community banks, Gilliam turned to The Business Backer, a provider of personal, customized financial solutions for small businesses. While banks won't even look at small sub-contractors in the construction industry, The Business Backer evaluates each business based upon its unique situation and needs, not on its particular industry.
"I approached The Business Backer with a specific need, and within a short period of time, the company had designed a financing program that eliminated the project payment gap," said Gilliam. "We use it only for payroll, and so far it has really worked for my company's situation."
H&G Erectors has been using The Business Backer for more than eight months, and because it has met the needs of the business, Gilliam doesn't see the need to even research other small business funding sources.
Gilliam concluded, "Most small construction companies are facing the same problem as mine so I haven't bothered researching other funding sources. With The Business Backer, I can use the service as long and as often as I need to, and the fact that the capital is there has really removed a major challenge from my operations."
Result
The Business Backer's ability to find Doug Gilliam the most optimal solution and provide funding to meet payroll helped him keep doing what he loves and keep his employees happy. When he needs additional funds, he knows The Business Backer will be there to help!