Smedlap's Smithy Restaurant
Business Cash Flow Funding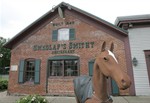 "My Financial Advisor at The Business Backer helped me get approved for financing and made it happen in two days! This will help me get stabilized, and allow me to continue to operate."
Jim Favorite – Smedlap's Smithy Restaurant
Smedlap's Smithy is a unique restaurant in Waterville, Ohio. The restaurant has been operating in a historic blacksmith shop for over 30 years. The current owner, Jim Favorite, purchased the business in 2008. They have restored the reputation of Smedlap's as a comfortable, affordable restaurant, with outstanding food and service.
A Personal Touch
In 2012, Jim Favorite was facing a personal crisis. His wife, the mother of his two sons, had been diagnosed with Stage 4 cancer. With his focus on attending to his wife, Jim needed a financial cushion for the business while he was away. Jim contacted a Financial Advisor at The Business Backer to secure the funding he needed.
"Without his assistance, I would not have been able to maintain the business and take care of my wife," said Jim. "My personal cushion was depleted because of the medical bills, but The Business Backer made sure whenever I needed funding, I got it. They were almost like family to me during this time."
Winter Blues
In mid-January 2014, Jim encountered the "Perfect Storm" of financial issues. Due to massive snow, the restaurant was forced to close for 2 days. When they reopened, sales were 75% lower than normal for the next three days because of bad weather. The closure and loss of sales added to a financial strain created by cancelled Christmas parties in December, also as a result of heavy snow. This was then compounded by an error by the state tax department, which mistakenly charged Smedlap's Smithy's account three times. "Because of all of this, I was panicked," said Jim.
Double Dipping Danger
Another lending company called Jim in the midst of his crisis and offered to loan him money and to pay off his current funding with The Business Backer. "They made it seem like it was my only option to get the cash fast," said Jim.
"Luckily for me, I called The Business Backer, and they explained why it was a very bad deal. Because of hidden fees and double dipping, the other loan would have cost me twice as much and they would be doubling my percentage of payback. I may have received the funds then, but I would never recover."
Jim decided to finance with The Business Backer after clearly seeing the fees and rates the other company would have charged him. "My Financial Advisor at The Business Backer helped me get approved for financing and made it happen in two days! This will help me get stabilized, and allow me to continue to operate."