Lucy Blue Pizza
Small Business Financing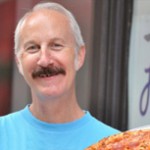 "The Business Backer is easier to deal with than other funding sources. They have always done what they say they are going to do. The Business Backer serves a very good purpose and fills a large gap in financing options available to small business owners."
Jim Thompson – Lucy Blue Pizza
The first Lucy Blue Pizza was opened at 12th and Walnut St. in Cincinnati, Ohio in 2002. The store was the first pizzeria owned and operated by Jim Thompson, a 38-year veteran of the restaurant business. In addition to making his own dough and sauce, Thompson opened Lucy Blue to be a late night hot spot, staying open until 3 a.m. serving pizza by the pie or by the slice. The concept worked as Lucy Blue was awarded Best Late-Nite Dining in Cincinnati by AOL City Guide in 2005 and 2006, and Best "Meal after Midnight" by City Beat Magazine.
The Fight for Capital
With the concept and pizza perfected, Thompson set out to turn Lucy Blue into a multi-store operation.
"I have worked for a lot of chains and franchises during my 38 years in the business, and seen many of the same mistakes repeated over and over, and many of those restaurants fail," commented Thompson. "I also lived and worked in New York for eight years, so I know what the difference is between good and bad pizza. I put all these experiences into Lucy Blue, and I knew I had a winning concept and a great product."
For most in the restaurant industry, raising capital can be an enormous challenge, especially given the economic challenges of 2009 and 2010. It has been no different for Thompson, who has tried everything from family and friends, to venture capitalists, banks and home equity loans. He added, "Even if you are a good restaurant, finding money to expand or improve your business is virtually impossible. Restaurant is a bad word to banks, and given the mistakes made by many restaurant owners, it is difficult to blame them for saying no."
With so many public stories of failed restaurants and little collateral, Thompson faced an up-hill battle to raise the capital he needed to further his Lucy Blue expansion. After he was turned down for capital from his merchant account provider, Thompson was introduced to The Business Backer.
The Business Backer Solution
After sitting down with Thompson and evaluating the Lucy Blue concept and its financial needs, The Business Backer developed a customized small business financing plan that provided Thompson with the capital loan he needed to buy equipment for his second store.
Following the positive experience of the first financing, Thompson returned to The Business Backer for a second time to help finance the completion of his third store. Another time was to help Lucy Blue open its fourth store. All told, Thompson has engaged with The Business Backer on eight different occasions for everything from capital investments to finalizing the financing for further expansion.
Today, Lucy Blue has five locations in Greater Cincinnati and Northern Kentucky.
Result
With each investment, Lucy Blue has been able to expand and increase sales, helping to better position Thompson for his ultimate goal of self-financing his future growth.
"The Business Backer is easier to deal with than other funding sources, and they have always done what they say they are going to do," said Thompson. "The Business Backer serves a very good purpose and fills a large gap in financing options available to small business owners like myself. Fortunately, with their help my business has not suffered during the recent economic upheaval. Even if the banks get back on track and start lending more, things will not change for Lucy Blue. I have found a financing solution that works for me and continues to help grow my business."
Today, Lucy Blue has five locations in Greater Cincinnati and Northern Kentucky.