LipoLaser
Financing for Consulting and Expansion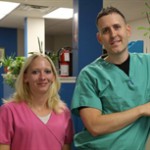 "The Business Backer has helped us every step of the way and made it possible for us to grow."
Abby and Brandon McCloud – LipoLaser
LipoLaser of West Chester combines technology with consultation to help clients reach their physical goals, improve self-image and improve overall health and nutrition. Owners Abby and Brandon McCloud, along with their licensed technicians provide, LipoLaser treatments to non-invasively remove unwanted cellulite and fat from the body while counseling and educating clients on their personal diets and exercise habits. The team also provides revolutionary Microcurrent treatments which dramatically reduces wrinkles and improves complexions.
Shrinking Waistlines & Growing Office Space
The McClouds opened LipoLaser of West Chester in 2011, sharing an office space with a massage therapy company. While the massage therapy business had the majority of the space, LipoLaser customers took up the majority of their shared waiting room. The growing popularity of LipoLaser was exciting, yet the McClouds struggled to keep up with demand in their one room, one machine organization.
"We knew our business would be a success, and it was wonderful to finally see our vision materializing, but we had no idea it would happen so quickly and at such a rapid pace," said Abby.
The building owner of LipoLaser's current space showed the McClouds a newer, larger building space within the same business park. It was the ideal location and size, and all they needed was the equipment and staff to fill it.
Risky Business
With proven growth, a business plan in place and a new office with enough room to occupy their expanding clientele, the McClouds felt confident they would secure a loan with their bank, but the bank did not share this same confidence.
"We were told we were a 'risky business type' because we were a cosmetic-medical business and that our company was too young to get a loan from this bank," said Abby. "It was very discouraging given the success of our business and the profit we could be making."
On their way out the door, a bank employee stopped the McClouds and told them about The Business Backer. The employee knew about The Business Backer's history of helping small businesses and thought it would be a good fit. With nothing to lose, The McClouds took the tip and made contact with a Business Backer Financial Advisor.
True Relationship Financing
After learning their story and evaluating their plan, The Business Backer provided customized solutions to the McClouds.
"Our Financial Advisor was extremely helpful. He educated us on our options and truly wanted to help our business. The Business Backer did not reject us because of our business age or type," Abby stated.
With financing from The Business Backer, the McClouds were able to purchase their own equipment for their new 2,000 square foot office and had working capital available to make other building improvements and eventually hire more staff. Although their business has doubled since their first financing, the McClouds have taken several fundings from The Business Backer to continue improving their business, including developing their own line of skincare products.
"The Business Backer has helped us every step of the way and made it possible for us to grow. We would not be where we are today without them," said Abby.
LipoLaser of West Chester is now developing a second skincare line and looking to add more services to their business, and The Business Backer will be their trusted partner along the way.