Elemental OM
Business Financing for Marketing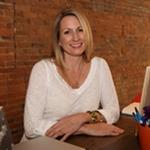 "With help from The Business Backer, I was able to hire a marketing company, rebrand my business, and gain national exposure"
Pamela Quinn – Elemental OM
Ten years ago, Pamela Quinn was a high-powered accountant suffering from debilitating back pain. When a doctor told her she would have to live with the pain for the rest of her life, Pamela turned to yoga, meditation, and holistic treatment.
Seeing the positive changes that her new lifestyle brought her, Pamela was inspired to open Elemental OM Yoga & Meditation Studio in Cincinnati, Ohio. Her success with the first studio led her to open a second location to serve her northern Cincinnati students.
Pamela's offerings expanded to include a training school for yoga teachers and holistic coaches, massage therapy, an online e-course, and a succcessful book. Her business was growing rapidly and Pamela wanted to gain more exposure by hiring a marketing company.
The Business Backer Solution
The Business Backer's CEO, Jim Salters, took a class from Pamela and was immediately inspired by her passion to help people bring physical and mental balance back to their lives.
With her already successful yoga studios and rising popularity of her book, Jim knew Pamela's business had the potential to grow on a national level. He approached Pamela after class and introduced her to The Business Backer and its financing options.
"Pamela had a successful business in a growing industry," commented Jim."After meeting her, I knew she had the drive and business acumen to take her business to the next level with financing from The Business Backer."
Result
After a few conversations with The Business Backer, Pamela had funding in place to achieve her business goals and continue establishing her presence in the yoga industry. "With help from The Business Backer, I was able to hire a marketing company, rebrand my business, and gain national exposure," said Pamela.
Pamela has since began offering classes at a third studio, continues to run a successful blog, and has presented at several yoga retreats and festivals. Her yoga studios have been voted onto several Best in the City lists.